Tim Grant | Pastor
Tim started in the role as pastor in July 2019. Previously he worked for over 11 years in youth ministry at Glasshouse Country Baptist Church and Tenthill Baptist Church. He holds a 'Bachelor of Ministry' and 'Master of Arts in Theology,' both from Malyon College.
Email: tim@mountisabaptist.com.au

Gary Lewis | Elder
Gary has been involved with MIBC with the Music & Worship Team since arriving in Mid 2006 along with his wife & two children from Kalgoorlie where he was involved in similar roles for 17 years. In 2017 he joined the 1st Mount Isa Boys Brigade company when it was relaunched and he joined the Church Leadership as Elder in November 2019.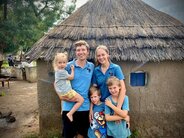 Ben Beard | Elder
Ben moved to Mount Isa in 2011 with his wife, they now have 3 children. Ben has taken an active role in MIBC since joining the congregation he is currently serving as an elder and the Boy's Brigade as their chaplain. Ben works as the NUM for ICU at the hospital and is also studying for his master's. Ben and his family served on the mission field in 2021 in Tonj, South Sudan. They are continuing to serve God in this way and will be returning to South Sudan and are also willing to serve wherever God leads them.
STAFF
Sarah Beard | Administrator and Account Officer
Sarah moved to Mount Isa in 2011 as a newlywed with her husband, Ben. Sarah has taken an active role in MIBC since she joined the congregation. Since having her first child in 2013 Sarah has been a stay-at-home mum taking care of her family. Sarah has served as ministry leader for Sonshine Corner, been involved in women's ministry, and served on the worship team. . Along with her family, she has recently returned after serving God on the mission field in 2021 in Tonj, South Sudan. They are planning on returning to Tonj, South Sudan in the near future. She is now enjoying her roles in serving MIBC as administrator and accounts officer.