The MIBC leadership will make two proposals regarding maintenance to the MIBC facility.
ASSOCIATED QUOTES FOR CEILING REPAIR
note: although I have called numerous tradesman for each job, I have had a small number of responses. Hopefully there will be more quotes forthcoming.
These figures will tentatively be incorporated into the 2021 budget.
CEILING QUOTE
There a number of aspects to this quotes:
The $29,950 (excl. GST) amount is for a new gyprock ceiling;
Alternatively
The $15,850 (excl. GST) amount is for the installation of new fibro inserts into the existing ceiling grid pattern.
The $10,985 (excl. GST) amount is for the removal of the rear evaporative cooling duct and to extend the ceiling once the vent is removed.
The $5,500 (excl. GST) amount is for the repair of the ceiling in the meeting room should the members see the benefit of having this area repaired.
PAINTING QUOTE
These quotes have various aspects:
To paint the new ceiling
To paint the auditorium walls. I was informed that often in these types of repairs, it's beneficial to have the walls painted, as often scuffs and marks occur on large building jobs.
To have the ceiling painted in the meeting room, should we get that area repaired.
ELECTRICAL QUOTE
Quote 1 (Three Parts)
Part 1 (Removal of existing lighting and fans prior to ceiling replacement) - We can potentially do this work ourselves.
Part 2 (Installation of new downlights and fans in auditorium)
Part 3 (Installation of downlights in meeting room, should the ceiling be repaired)
Example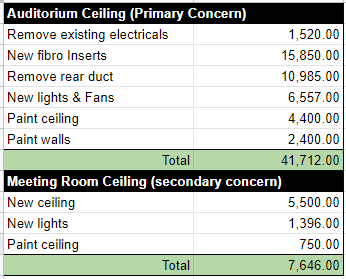 ASSOCIATED QUOTES FOR EXTERNAL DEVELOPMENT PLANS
This quote has two aspects:
CIVIL ENGINEERING:
Levelling the carpark
Drainage
Sealing the Carparks
STRUCTURAL ENGINEERING:
Work addressing the obsolete ramp and stairs to Top Hall and to tidy retaining wall.
Plans to consider an external covered area at rear of auditorium for hospitality / children's play during morning tea.